Firearms Dealers Binghamton NY
Local resource for firearms dealers in Binghamton. Includes detailed information on local businesses that provide access to revolvers, pistols, handguns, fire arms, military supplies, ballistics, semi automatics, rifles, as well as advice and content on distributors and merchant locations.
---
Big Lots
(607) 773-8045
435 State St
Binghamton, NY
Sam's Optical
(607) 770-6297
2441 Vestal Pkwy E
Binghamton, NY
Family Dollar Stores Inc
(607) 771-6010
457 Court St
Binghamton, NY
Burlington Coat Factory
(607) 797-4707
601 Harry L Dr
Johnson City, NY
Sam's Club
(607) 770-6200
2441 Vestal Pkwy E
Vestal, NY
Northgate Dollar Store
(607) 724-2760
1250 Upper Front St Ste 21
Binghamton, NY
Family Dollar Stores Inc
(607) 773-1893
1183 Vestal Ave
Binghamton, NY
Sears Roebuck and Co
(607) 798-6090
RR 17
Johnson City, NY
Dollar Bazaar
(607) 729-3026
128 Grand Ave
Johnson City, NY
Target Stores
(607) 729-6611
3112 Vestal Pkwy E
Vestal, NY
Kimber 84L: Custom Rifle Quality without the Custom Price Tag
Kimber 84L: Custom Rifle Quality Without the Custom Price Tag
Corey Graff | Mar 23, 2010 | Comments 0

The Kimber Model 84L™ represents a new category of rifle with the perfect combination of weight and elegance. Weighing only 6 pounds, 2 ounces, it offers the custom and performance features expected from Kimber at a production rifle price.
The "L" in Model 84L could stand for "long"; as in long action. The Classic Select Grade is available in .25-06 Rem., .270 Win. and .30-06 Spfd and carries a 24-inch match-grade barrel to wrings every bit of velocity and accuracy out of America's favorite cartridges . The Model 84L does not compromise accuracy or velocity to save weight.
The Model 84L action follows the minimal dimensions of the Model 84M, but is slightly lengthened for standard calibers. Both Classic and Classic Select Grade models hold five rounds in the magazine plus one in the chamber. The Model 84L features a full-length Mauser claw extractor for true controlled-round feeding and extraction.
The most dependable system ever developed, it prevents the double-feeding and jamming of common push-feed actions. A properly shaped classic French walnut stock with 1-inch Pachmayr Decelerator pad diminishes felt recoil. Other features of the top-of-the-line model include an ebony forend tip and hand-cut checkering that establishes a new production rifle standard. A combination of both pillar and glass bedding stand up to the tough of the hunt.
The match-grade trigger breaks crisp and sharp at 3.5-4 pounds, just right to make the shot of a lifetime. The floorplate release is inside the trigger bow to prevent accidental opening. All of this attention to detail is just what you'd expect from America's premier gunmaker and the Kimber 84L does not disappoint.
For more information, visit: www.kimberamerica.com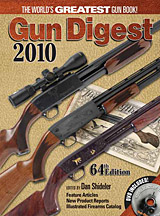 You might also be interested in Gun Digest 2010 – The World's Greatest Gun Book. Click Here to learn more.